2013-06-29

SPVHD
Smartport Virtual Hard Drive
An external USB solution for the Apple II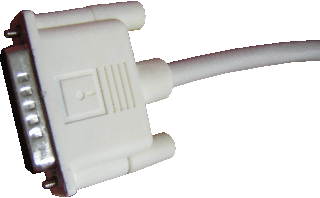 1 Introduction
2 Overview
3 History and News
4 Offers
5 Compatibility
6 Benchmarks
7 Evolutions
8 Floppy Drives
9 Thanks !
0 Licenses
A Donations

The project will be open source, so you could make your own device from scratch if you want. Nevertheless, this is a hard way, only surface mounted micro controllers are offering usb hosting, and this requires costly tools. I found a clean and cheap solution by selecting an
Opendous
design. This allows me to offer three easier ways to get the device up and running, described here after.
| Solution | Total price (*) |
| --- | --- |
| DIY1, kit | 40 euros |
| DIY2, kit | 55 euros |
| DIY/UI, optionnal user interface for DIY1 and DIY2: +9 euros | |
| PnP, full device as a kit | 90 euros |
| PnP, full device assembled (long waiting list) | 90 euros |
| PnP2, like PnP but with a small enclosure from the market | 78 euros |
(*): including untracked worldwide shipping and paypal fee
DIY package 1:
if you want really to do your own custom installation.
This includes only the board, tested, preloaded with the latest firmware, and the required diagrams to do the wiring yourself.
The heart of the device:



DIY package 2:
like the DIY package, but including the molded DB19 male connector and the daisy chain connector too.
Overview of the DIY 2 package: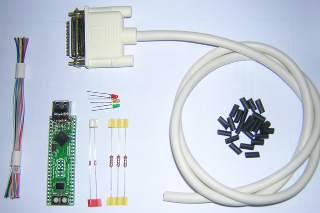 PNP package:
ready to use with a custom molded enclosure matching the Apple II 3.5 floppy drive look.
Plug the device like a floppy drive and prepare your usb key: you are ready ! Nevertheless, you have to wait several months to get this device. I'm working to scale up the production and reduce this delay. You can also get it quicker as a kit to be assembled by yourself, wich is freeing me from a long work ;-)
This is the device I wanted long time ago, when I decided to leave my Apple //c because it was unusable without such a mass storage.
Photo of the first white sample on the left, and a grey unit of the revision D on the right: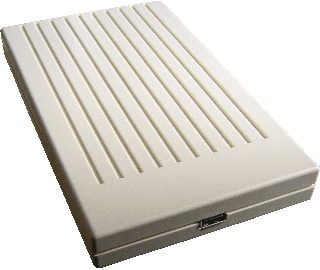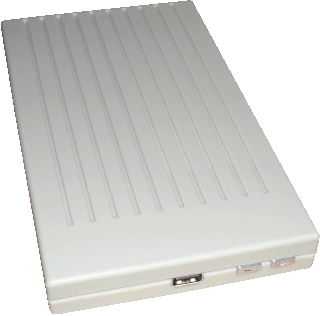 The rear view showing the daisy chain connector on the left,
and the underside showing soft foot with guides on the right: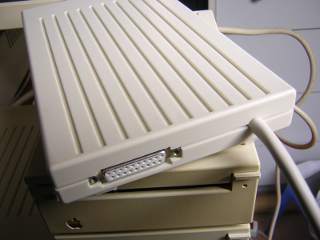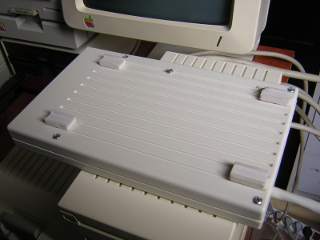 The underside of the current revision D, showing the integrated speaker and soft foots: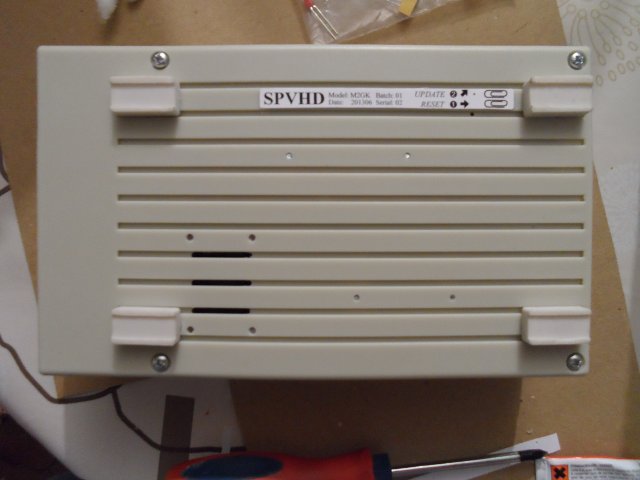 Alternative solution with the smaller enclosure (PnP2):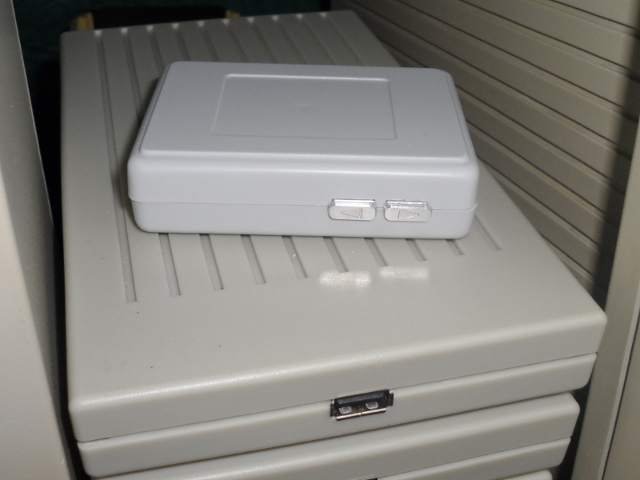 The photos look great, nevertheless keep in mind that the production is home made, and despite all my attention, the final aspect is not perfect at close look.
If you are interested to get a device, send me an
email
with "SmartPortVHD" as subject. My reply could take some time, please be patient ;-) Don't forget to tell me your postal address, and I will send you a confirmation request including the shipping cost when an unit will be available. Remember that I'm not making money with this product, but I need to cover the costs of the developpement. I'm a big fan of the 80's Apple II era and I do it as an enthousiast, for enthousiasts ! Of course,
donations
are welcome to support my work :-)